Srila Prabhupada: "I so hope at the time of your death you were remembering Krishna and as such, you have been promoted to the eternal association of Krishna. If not, if you had any tinge of material desire, you have gone to the celestial kingdom to live with the demigods for many thousands of years and enjoy the most opulent life of material existence. From there you can promote yourself to the spiritual world. But even if one fails to promote himself to the spiritual world, at that time he comes down again on the surface of this globe and takes birth in a big family like a yogis' or a brahmanas' or an aristocratic family, where there is again chance of reviving Krishna Consciousness. But as you were hearing Krishna-kirtana, I am sure that you were directly promoted to Krishna-loka. ... Krishna has done a great favour to you, not to continue your diseased body, and has given you a suitable place for your service. Thank you very much." Your ever well-wisher, A.C. Bhaktivedanta Swami
TRAUERANZEIGE
Asanga Dasi (Anna Valpey), eine wunderbare Seele hat ihren Körper verlassen.
Geboren: 1. April 1950 / Verstorben: 27. Oktober 2019
Eine wunderbare Seele hat ihren Körper verlassen. Anna hat ihr Leben auf die ewige Bestimmung der Seele ausgerichtet, dem göttlichen Paar Radha und Krishna zu dienen.
Ihr Enthusiasmus war mitreißend, ihr Mitgefühl tief. Wir bleiben zurück - so traurig ... und dankbar. "Unser Herz muss gebrochen werden - solange bis es sich öffnet für das Wirkliche." (Rumi).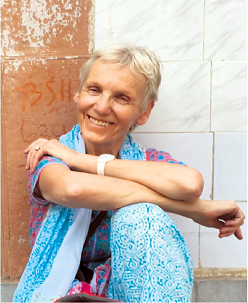 IN GEDENKEN
Dagmar, Ivana,
Marianne mit Familie
Claudia mit Familie
Gerd mit Familie
Suniti und Gaura, Eva, Mohini und Caksu, Vandana, Raseshvari, Sukriti, Sudevi
und alle deine Weggefährten
Traueranschrift: Familie Steinhoff
c/o Bestattungshaus Anja We!teroth Gartenstraße 14, 53783 Eitorf
Wir verabschieden uns von Anna am Mittwoch, den 6. November 2019, um 13.30 Uhr im Radha Govinda Yoga Raum, Schloßstraße 27, 53783 Eitorf-Merten.
Anschließend begleiten wir sie auf ihrem letzten Weg.

Liebe Anne,
für uns warst Du das Beispiel einer Gottesbewussten Seele. Immer hast Du das Gute gesehen und dem Schlechten keinen Gedanken geopfert. So schön und ein großes Glück einen Menschen wie Dich gekannt zu haben. Immer wenn wir an Dich denken fühlen wir Gutes und wissen genau das Du die Barmherzigkeit Gottes empfangen hast.
In liebevoller Erinnerung...
Doloris und Rico
NACHRUF
Hare Krishna dear Devotees, Please accept my humble obeisances. Jaya Srila Prabhupada.
Last night Asanga devi dasi, a German disciple of Srila Prabhupda passed away at her asram near Cologne.
There were 4 devotees with her at the time of passing performing Kirtan.
I am sorry that I am bringing this sad news, but wanted to inform you, as we did many years of service together in Heidelberg and Cologne with her. She was a very kind hearted sankirtan devotee.
At the last stage of her life, she had a brain Tumor. By the arrangement of the Lord, she was taken care of 4 loving devotees.
Please send your good wishes and perform Kirtan for her. Thank you.
Your servant
Bhagavat dharma dasa
E-Memorial - Online Vaishnava Gedenkstätte
http://www.prabhupada.de/gemeinde/e-memorial.htm